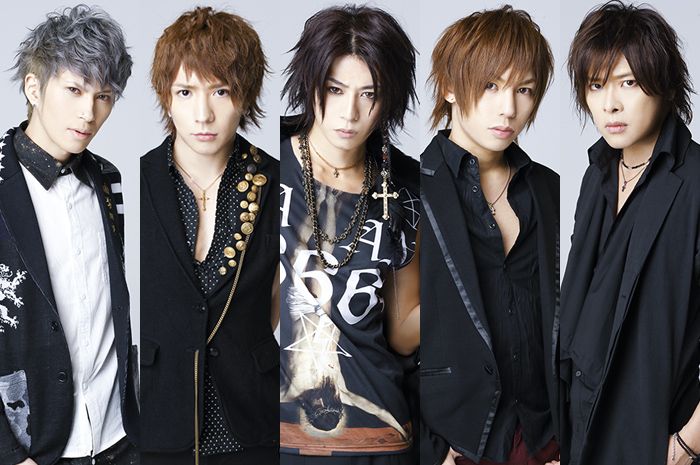 2009年3月結成。Ba.イヴとDr.Ko-kiを中心に作ったユニットの元に、Gt.零乃、怜我とVo.シンが加わり現在のメンバー構成に至る。Melodix Mixture Rockをコンセプトに、ラップやハードな曲調でミクスチャー要素も融合させたサウンドが特徴。
驚異的なライブ動員増加を記録している。バンド名の「ViViD」は「鮮やか・まばゆい」という言葉で、メンバー一人一人の個性を大切にして輝き続けるという意味を込めて命名。
2009年7月8日にシングル「Take-off」でインディーズデビュー。インディーズチャート初登場2位を獲得する。以降、三作連続でインディーズチャートでは初登場1位を獲得。
2010年7月にリリースした最新シングル「PRECIOUS」はオリコンメジャーチャートで初登場15位にランクイン。また、同じ7月にはデビュー前にも関わらずフランス・パリで行われた日本最大のカルチャーフェス「JAPAN EXPO 2010」に招待され、約1万人の前でパフォーマンスをした。
同年8月、渋谷AXでの3rdワンマンライブ『Day of Awaking』でメジャーデビューを発表。同時に発表したインディーズラストワンマンライブ『光彩GENESIS』渋谷C.C.Lemonホールは、チケット一般発売1時間経たず完売を記録。
2011年1月19日、EPICレコードよりシングル『「夢」~ムゲンノカナタ~』でメジャーデビュー。 オリコンウィークリーランキング6位を記録。
同年4月20日にリリースされた、2010年12月27日渋谷C.C.Lemonホール(現:渋谷公 会堂)で行われたインディーズラストワンマンライブDVDは、オリコンジャンル別DVDランキングでウィークリー10位を記録。 2011年5月15日に行われたワンマンツアー「ViViD ONEMAN LIVE TOUR 2011『Dear...ViViD COLORS』」初日公演である日比谷野外音楽堂での公演チケットも完売。
本ライブで、2012年1月の日本武道館ワンマンライブの決定を発表。
2011年7月13日には2ndシングル「BLUE」(テレビ東京アニメーション"BLEACH"オープニングテーマ)をリリースし、オリコン ウィークリーランキング4位を記録。 2011年11月9日には、3rdシングル「FAKE」(GREE恋愛ゲーム「恋と仕事と君のプロデュース」テーマソング)をリリースし、オリコン ウィークリーチャート9位を記録。2012年1月11日には4thシングル「message」をリリースし、オリコンウィークリーランキング4位 を記録。 2012年5月16日には、5thシングル「REAL」(MBS・TBS系TVアニメ「機動戦士ガンダムAGE」キオ編オープニングテーマ)をリ リース、オリコンウィークリーランキング6位を記録。 新人ながら、メジャーデビュー以降5作品ともにオリコンウィクリーランキング10位以内にランクイン。
国内のみならず、海外での人気も高く、2011年11月には台湾・香港・シンガポールにて初のアジアツアーを敢行。2012年1月7日はデビュー1年以内での日本武道館公演も大成功におさめた。
2012年6月27日に待望の1stアルバム「INFINITY」をリリース。
アルバム発売日より初のホールツアーを行い、8000人を動員し、大盛況となった。 そして4月24日には約1年ぶりとなる新曲「ANSWER」をリリースし、この曲を引っ提げて、4月19日渋谷AX公演を皮切りにViViD史上最長となる全41本「ViViD TOUR 2013「Just do it!」」を行う。
[BIOGRAPHY]
Breaking many records and speeding up at the velocity of sound, the quintet, ViViD will change the world!
March 2009, somewhere in Tokyo where the Japanese cherries were blossoming all over, IV(bass) who now is famous for the masculine body with 5 percent of body fat, at that time was just an innocent boy with the impressively wide eyes, met an ambitious teenager, Ko-ki(drums) who didn't get along with the kids of the same age and always hung with the adults. Even though then there were only 2 of them, they decided to form a band for purpose of "to reach the very top of Japanese music scene", and knocked on the door of the legendary management office, PS COMPANY which had been dealing with many, so-called "Visual-kei" artists who had the very strong visual impacts. The charismatic female entrepreneur who signed them immediately, now looking back says "Something just clicked in my mind at the very first meeting."
After that, like being drawn by a magnet, Reno(guitar) who always sticks with the guitar and practices in every moment when he has a chance, Ryoga(guitar) who is called "the Jack-knife of Kita-Kanto(the center part of Japan, to the north of Tokyo)" from his looks but actually sleeps in every moment when he has a chance, and Shin(vocal) who has the natural innocence of a fool as well as extraordinaire talent as the vocalist and inborn good appearance, joined the two. Instantly five guys hit it off with one another. Holding up "Melodic Mixture Rock" as their band concept, they decided to call themselves "ViViD" which represented their wish to keep shining by utilizing each one's individuality.
In April, they performed the first show at Takadanobaba AREA, the venue which was considered as the gateway to success for the "Visual-kei" bands. On July 8th, they released the debut single "Take-off" from the independent label, which entered the independent chart at No.2. After that, all three singles which they released in a row debuted at No.1 on the Indie chart.
On November 7th, they performed the 1st headline show called "THE ViViD COLOR"(sold out) at Shibuya 0-West(capacity of 600), and on March 30th 2010, 2nd headline show called "SIGNET TO THE FUTURE"(sold out) at Ebisu Liquidroom(capacity of 800). In July, they were invited to the biggest Japanese cultural event "JAPAN EXPO 2010" which took place in Paris, France even though they had not debuted in France yet, performed in front of the audience of 10,000 who came from all over Europe and stole the show. After coming back to Japan, the single "PRECIOUS" released on July 7th entered the Oricon Major Chart(National Chart in Japan) at No.15.
In August, they announced the forthcoming major label debut at SHIBUYA-AX(capacity of 1400), the 3rd headline show called "DAY OF AWAKING". The tickets for the last headline show as the indie band, called "KO-SAI GENESIS" at Shibuya C. C. Lemon Hall(capacity of 1800) on December 27th which was announced at the same show, were all sold out within one hour. The calls for their tickets have been getting bigger and bigger in a very short period of time.
January 19th 2011, they released the major debut single "Yume(dream)~Mugen-no-Kanata(beyond the infinity)" from Epic Records which made an amazing start, entering the Oricon Weekly Chart at No.6. Now they are going to start the 1st nationwide headlining tour "DEAR…ViViD COLORS" at Hibiya Outdoor Music Hall (Capacity of 2500) on May 15th.
Released 2nd single "BLUE" (TV Tokyo Anime "BLEACH" Opening Theme) on 2011/07/13 and topped to place 4 on Oricon Weekly Charts. Released 3rd single "FAKE" (GREE Love Simulation Game "Koi to Shigoto to Kimi no Produce" Theme Song) and ranked 9 on Oricon Weekly Charts. Released 4th single "message" on 2012/01/11 and placed in as 4 on Oricon Weekly Charts. Released 5th single "REAL" (MBS-TBS TV Anime "Mobile Suit Gundam AGE" Kio Ver Opening Theme) on 2012/05/16 and ranked 6 on Oricon Weekly Charts. Even though they are newcomers, after major debut, all of their 5 singles have ranked in to Top 10 on Oricon Weekly Charts.
Not only in Japan, they have also achieved high popularity overseas, and had their first Asia Tour in November 2011, touring Taiwan, Hong Kong and Singapore. Their performance at Nippon Budokan on 2012/01/07, within just a year from their debut, was a huge success.
On 2012/06/27, they released their long-awaited 1st Album "INFINITY".
From the album release date, they started their first hall tour, which was a great success, moving over 8000 people. And then, on 24th April, they will release their new song "ANSWER", which is the first release in almost a year. Leaded by this song, they will start the longest tour in the history of ViViD,. "ViViD TOUR 2013 "Just do it!" consists of 41 live performances, and starts from the live in SHIBUYA AX on 19th April.
ViViD 简介
2009年4月組成。在由貝斯手IV及鼓手Ko-Ki為中心結成的組合的基礎之上,迎來吉他手零乃、伶我及主唱Shin,形成了目前的成員構成。其音質的特點是,以Melodix Mixture Rock為理念,加進說唱及硬搖滾的曲調,融合了混合搖滾的元素。該樂隊創下了現場演唱動員人數不斷增加的驚人記錄。樂隊名稱ViViD意為「鮮活•耀眼」,包含了要珍視每一位成員的個性,讓樂隊永遠光彩耀人的意願。 2009年7月8日以單曲《Take-off》作為獨立音樂人出道。初次參加獨立音樂榜即獲第2的佳績。之後,又創下連續3曲初次登場即獲第1的驕人戰績。 2010年7月發表的獨立音樂制作的最有一張單曲「Precious」在公信榜(Oricon)初次登場就排在了第15位。
另外,同樣也是在7月份,就在他們還沒有正是出道之前,就受邀參加在法國巴黎舉行的最大規模的日本大眾文化嘉年華活動"JAPAN EXPO 2010",在近1萬觀眾面前進行了表演。 2010年12月在澀谷C.C檸檬音樂廳舉辦的獨立音樂制作的最後一場單人現場音樂會「光彩GENESIS」的入場券在1小時之內就全部售罄。 2011年1月19日通過EPIC Records Japan推出單曲《「夢」~無限的彼岸~》,實現了主流出道。創下公信周排行榜第6的佳績。同年4月推出的2010年在澀谷C.C檸檬音樂廳舉行的獨立音樂制作最後單人現場音樂會的DVD獲公信榜DVD部門周間排行第10位。
從5月15日舉行單人巡演"ViViD ONEMAN LIVE TOUR 2011 『Dear…ViViD COLORS』"。在日比谷野外音樂堂舉行的第一場的入場券也全部售光,並在該音樂會的現場發表了於2012年1月在武道館舉行單人演唱會的消息。 7月13日推出東京電視台系列動漫『BLEACH』的片頭曲-《BLUE》。
成員簡介
【主唱 Shin(Shin)】
充滿成熟男人魅力的主唱。
以其迷人的外表和出類拔萃的歌唱才能,加之在現場音樂會上的卓越表現,當仁不讓地成為樂隊的核心。在音樂方面,無論是說唱、抒情曲還是硬搖滾風格亦或通俗唱法,都能表現自如,表演範圍寬闊。在作曲方面善長編寫余韻繞梁讓人過耳難忘的曲子。多為樂隊其他成員所作的歌曲框架上他配旋律,構成了只有他才會具有的獨特的世界觀。不愧是代表ViViD的靈魂式主唱。
【吉他手 零乃(Reno)】
雖外表冷峻深沈,但在舞台上的吉他演奏卻激烈性感,是一位技藝絕妙、善於烘托現場演唱會氛圍的吉他手。在冷峻的外表之下永遠藏著一個積極樂觀的心。此外,在包括音響等諸多方面都是ViViD的帶頭人。在作曲方面善長制作以激烈的吉他音型為主的曲調或幽怨的旋律。是ViViD的隊長。
【吉他手 伶我(Ryoga)】
在現場演唱會上通過一邊彈出厚重的聲音一邊以多彩的音色渲染出獨特的空間,總是以其深沈的表演讓現場的觀眾如醉如癡。在作曲方面,善長以其獨特的世界觀制作以吉他為主旋律的樂曲。在性格上非常具有男子漢的氣概,但卻又似乎隨時做好了被人調侃的準備,因此雖然外表冷峻深沈但卻同時讓人感到親切。
【貝斯手 IV(IV)】
雖然性格天真活潑但在現場演唱會上卻比誰都激烈,釋放出絕對的存在感。 在作曲方面,無論是激烈的曲目,還是輕快、抒情甚至純日本風格的旋律,都順手拈來,創作面廣泛。曾公開表示不善言談,因此在現場演唱會上往往話語不多,但無論是粉絲還是樂隊成員都把他看成是小弟弟一個,對其喜愛有加。在成員中個頭最小,但同時也是肌肉最發達的一個。
【鼓手 Ko-ki】
張揚的外表和誇張笑容自成風格,是一位個性化鼓手。在作曲方面善長將DJ及說唱等融匯在一起的數碼音效及激烈的曲調。同時還擔任ViViD的視覺創意及藝術作品、紀念品等業務,範圍廣闊。有時還會流露出調皮的一面,是個頗招人喜歡的人物。
Vo. シン


名前:シン
パート:Vocal
血液型:B型
誕生日:09月04日
身長:170cm
煙草:No Smoking
趣味:Billiards好きなブランド:5351、LGB
好きな音楽:Classic
Message:好きになったら後悔させない!

Gt. RENO

名前:RENO
パート:Guitar
血液型:A型
誕生日:06月04日
身長:180cm
煙草:アラスカ
趣味:お酒、ダーツ
好きなブランド:Bloody Mary、JustinDavis、BUFFULO BOBS、NO ID、Obelisk、SHELLAC、SCHLUSSEL
好きな音楽:SIAM SHADE、春畑道哉、SteveVai GaryMoore、EricClapton、DreamTheater、R&BからJazz等イージーリスニング系全て
Message:No guitar No life




Gt. RYOGA

名前:RYOGA
パート:Guitar
血液型:AB型
誕生日:11月22日
身長:178cm
煙草:Seven Stars Box
趣味:おしゃれすること
好きなブランド:CHROME HEARTS、Loree Rodkin、ROAR、LGB、KMRii、ARMED、STUD MUFFIN、QL Mansion Maker
好きな音楽:R&B、J-HIPHOP
Message:群馬県太田市出身です!




Ba. イヴ

名前:イヴ
パート:Bass
血液型:A型
誕生日:02月16日
身長:167cm
煙草:吸わない
趣味:映画鑑賞、楽曲作成、読書
好きなブランド:Louis Vuitton,LoreeRodkin,Dior,
John Galliano,Cartier,GODIVA,L'OCCITANE,Sabon
好きな音楽:K-pop,アニソン,ROCK
Message:イッヴイヴにしてやんよ




Dr. Ko-ki

名前:Ko-ki
パート:Drum&Programming
血液型:O型
誕生日:05月01日
身長:170㎝くらい?
煙草:Marlboro MENTHOL LIGHTS BOX
趣味:BAR巡り
好きなブランド:GEOMETRYTOKYO
好きな音楽:ROCK
Message:ハッピーに生きる!